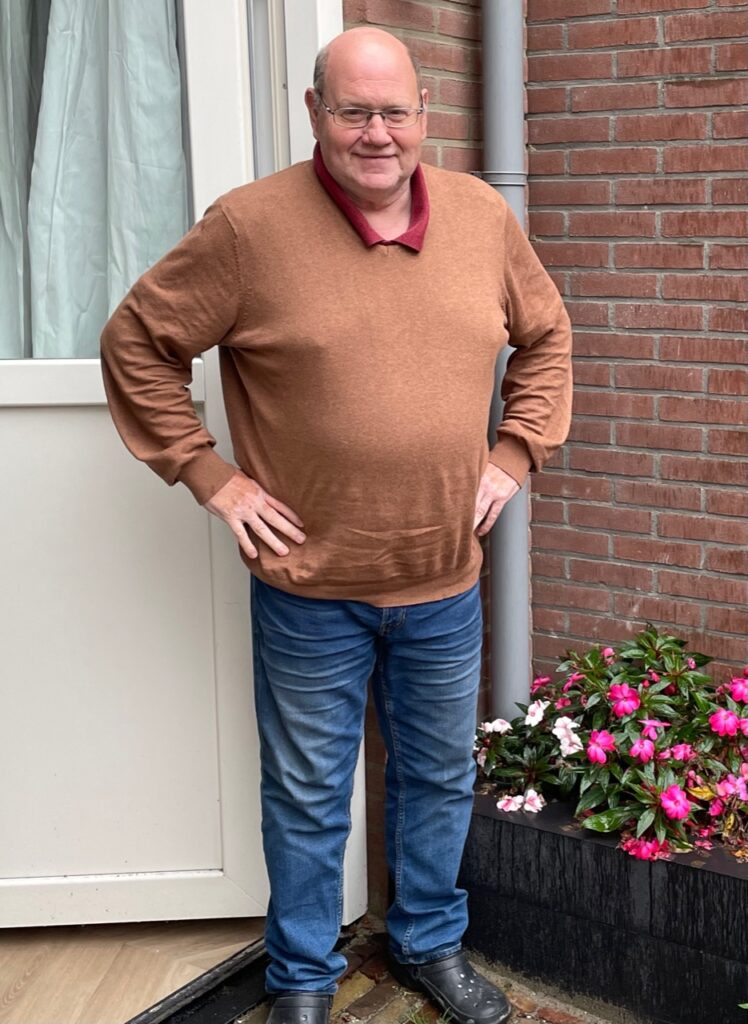 Wie ben je? Peter Zoun, ik ben 61 jaar en al 11 jaar weduwnaar. Ik heb 1 dochter Martine (30) en twee kleinkinderen Troy (10) en Annemijn (2).
Wat doe je? Ik ben mijn hele leven marktkoopman geweest. Wij verkochten snoep en levensmiddelen hier in de omgeving: op de Leyweg in Den Haag, Delft, Katwijk en Rijswijk. Ik ben op mijn 16e daarmee begonnen, met mijn vader mee. Op mijn 30e heb ik alles van mijn vader overgenomen. Ik heb altijd erg genoten van de markten, vooral van alle contacten met de klanten. Het is wel weersafhankelijk, met slecht weer komen er minder mensen. Na het overlijden van mijn vrouw ben ik in een diepe dip geraakt en ben ik te veel gaan drinken. Door te veel alcohol tot mij te nemen en heel slecht en ongezond te eten ben ik erg ziek geworden. Ik heb echt op het randje gelegen. Op dit moment gaat het weer beter met mij. Ik ben er trots op dat ik helemaal niet meer drink en dat het gelukt is om weer levensvreugde te ervaren.
Waar woon je? Ik woon nu bijna een half jaar in de Bijdorpstraat. In een mantelzorgwoning die aan het huis van mijn dochter is gebouwd.
Wat vind je van Voorschoten? Ik vind Voorschoten heel fijn. Ik ben weer lid geworden van 4 klaverjasverenigingen bij: de V.O.V., de Boschbloem, het Alettahof en bij Laurentius. Verder zwem ik in "het Wedde", dus wil ik ook heel graag dat het zwembad behouden blijft! Ik ben heel gelukkig bij mijn dochter ze zorgt uitstekend voor mij.
Wat zou je willen veranderen aan Voorschoten of heb je leuke ideeën voor Voorschoten? Ik kom veel oudere mensen tegen in Voorschoten die geen mobiel of PC hebben en ook geen familie of kennissen die hen helpen met zaken die nu veel online plaats vinden. Dit is zo triest dat ik merk dat sommigen van hen niet meer komen klaverjassen omdat zij geen QR code kunnen laten zien. Dit is dus een vergeten groep mensen die geholpen moeten worden door bijvoorbeeld Stichting Voor Elkaar of aan het gemeenteloket.