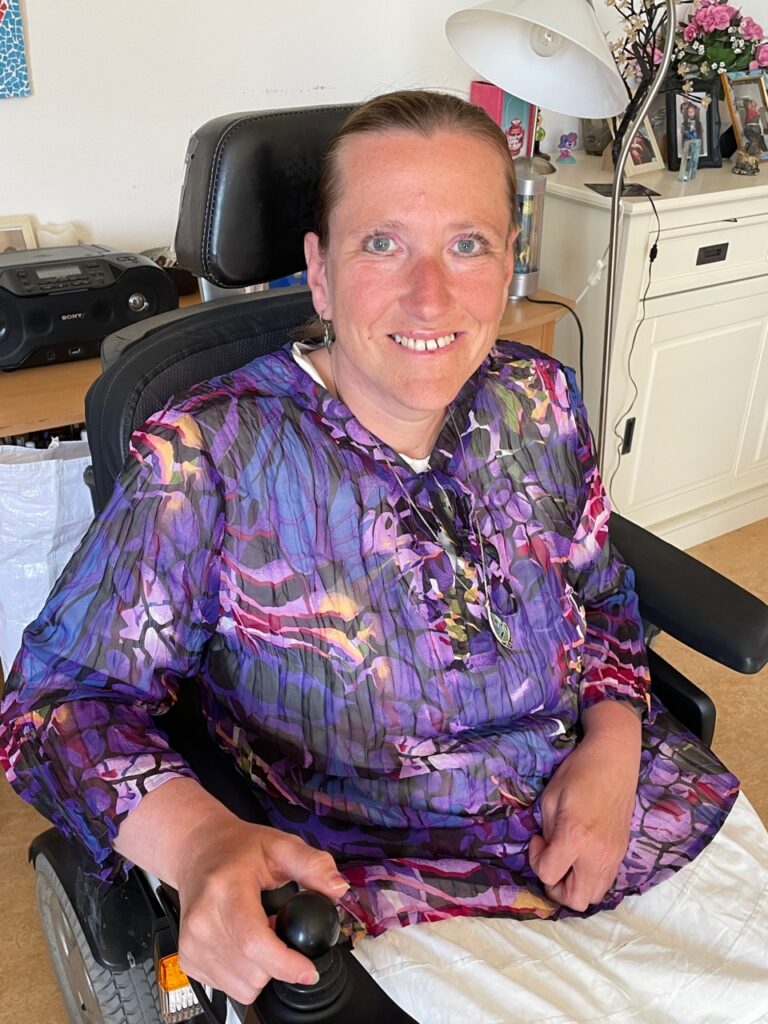 Wie ben je? Marianne van der Meer, ik ben 41 en vrijgezel
Wat doe je? Ik werk op dinsdag, woensdag en donderdag bij Zij aan Zij in de Passage. Het is daar altijd gezellig, vaak zit ik te borduren. Dat is wel een grote passie van mij, het is zo ontspannen. Door mijn collega's worden veel andere dingen gemaakt die soms ook verkocht worden. Op vrijdag sport ik met medebewoners, ik krijg oefeningen voor mijn armen. Omdat ik in een rolstoel zit moet ik mijn armen sterk houden. Met mooi weer gaan wij buiten basketballen. Ik ben graag buiten daar word ik heel blij van. Ik hou ook erg van muziek, daar word ik altijd hel vrolijk van.
Waar woon je? Ik woon in de Multatulilaan, in en appartement van Stichting Gemiva. Ik ben geboren met een open ruggetje, ok wel Spina Bifida genoemd. Dat was heel erg schrikken voor mijn ouders, maar mede door hen ben ik nu waar ik wezen moet. Ik zit al heel mijn leven in een rolstoel en ik wet niet beter dus daar kan ik goed mee omgaan. Ik heb wel extra hulp nodig vandaar dat ik hier woon. Ik kijk uit op de speelplaats van De Vos. Dit is soms wel erg druk en dan ga ik naar buiten of naar mijn moeder.
Wat vind je van Voorschoten? Voorschoten is een leuk dorp. Ik ben vaak in het centrum, soms pik ik een terrasje met iemand of ga ik een ijsje bij Moments halen. De mensen zijn erg aardig, ze zeggen goede dag of maken een praatje met mij. Als ik ergens niet bij kan of iets heb laten vallen zijn ze erg hulpvaardig.
Wat zou je willen veranderen aan Voorschoten of heb je leuke ideeën voor Voorschoten? Ik ben erg tevreden over de trottoirs in Voorschoten. Ik heb nog geen obstakels gevonden, ik kan overal gemakkelijk komen met mijn rolstoel. Verder heb ik niets te wensen ik ben een tevreden mens.