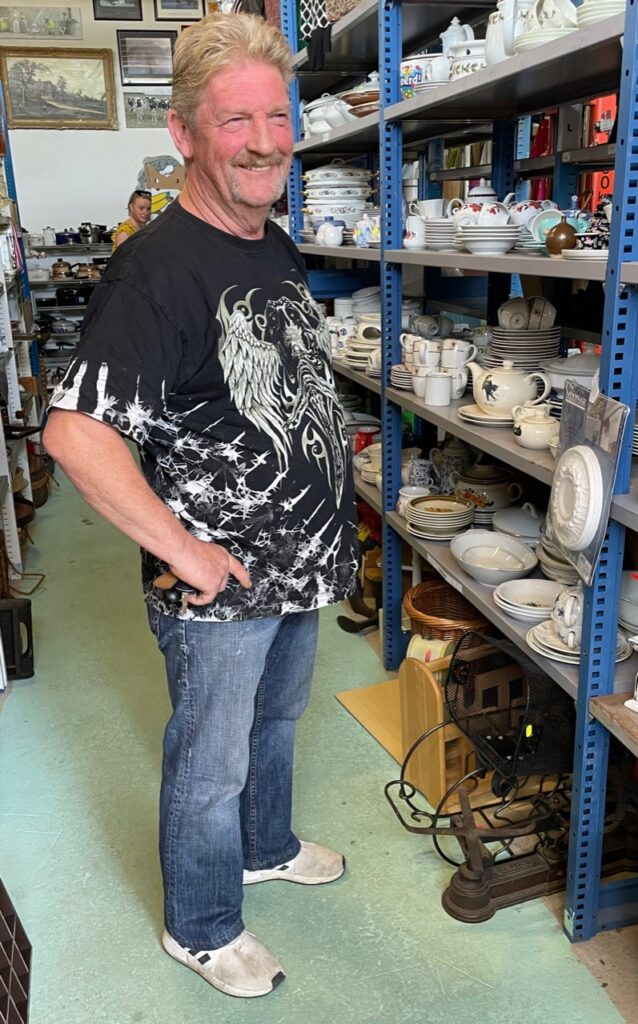 Wie ben je? Ed van Leeuwen, ik ben 63 jaar en alleenstaand. Ik heb twee kinderen van 35 en 40 jaar
Wat doe je? Ik ben eigenaar van Kringloop Centrum Voorschoten. Zoals inmiddels iedereen weet hebben wij de winkel aan de Johannes Vermeerplantsoen door de uitbraak van Corona moeten sluiten. Op dit moment heb ik alleen nog in Valkenburg een filiaal. Daar hebben wij ook al drie kwart van in moeten leveren. Ik hoop weer snel filialen erbij te kunnen krijgen want er is veel vraag naar kringloop spullen. Ik ben hier zo 60 à 70 uur in de week mee bezig. Ontruimingen, de inkoop, de verkoop en de administratie. Het is echt heel veel werk!
Waar woon je? Ik woon in Noord-Hofland. Ik heb het daar reuze naar mijn zin. Het is een heerlijke rustige wijk en ik heb hele fijne buren.
Wat vind je van Voorschoten? Vroeger was Voorschoten erg leuk. De Paardenmarkt voelde echt als een bruisend feest. Nu is daar maar weinig van over. Helaas zijn er veel pinautomaten verdwenen en voor bankzaken moet je naar de omliggende dorpen en of steden. Als het zo doorgaat, staat de gemeente zo weer onder financieel toezicht en dan ben ik bang dat er geen Voorschoten meer is maar dat wij een wijk van Leiden worden. Dat willen wij allemaal toch niet!
Wat zou je willen veranderen aan Voorschoten of heb je leuke ideeën voor Voorschoten? Ik vind het echt een gemiste kans voor mijn opvolger Roy Court dat er in Voorschoten nergens een nieuwe ruimte voor onze kringloop beschikbaar komt. We staan te popelen om weer op te starten. Voor elke gemeente is het belangrijk en kringloop te hebben. Wij recyclen zo een 1,3 miljoen kilo per jaar wat anders naar de milieustraat wordt gebracht en wordt afgevoerd.