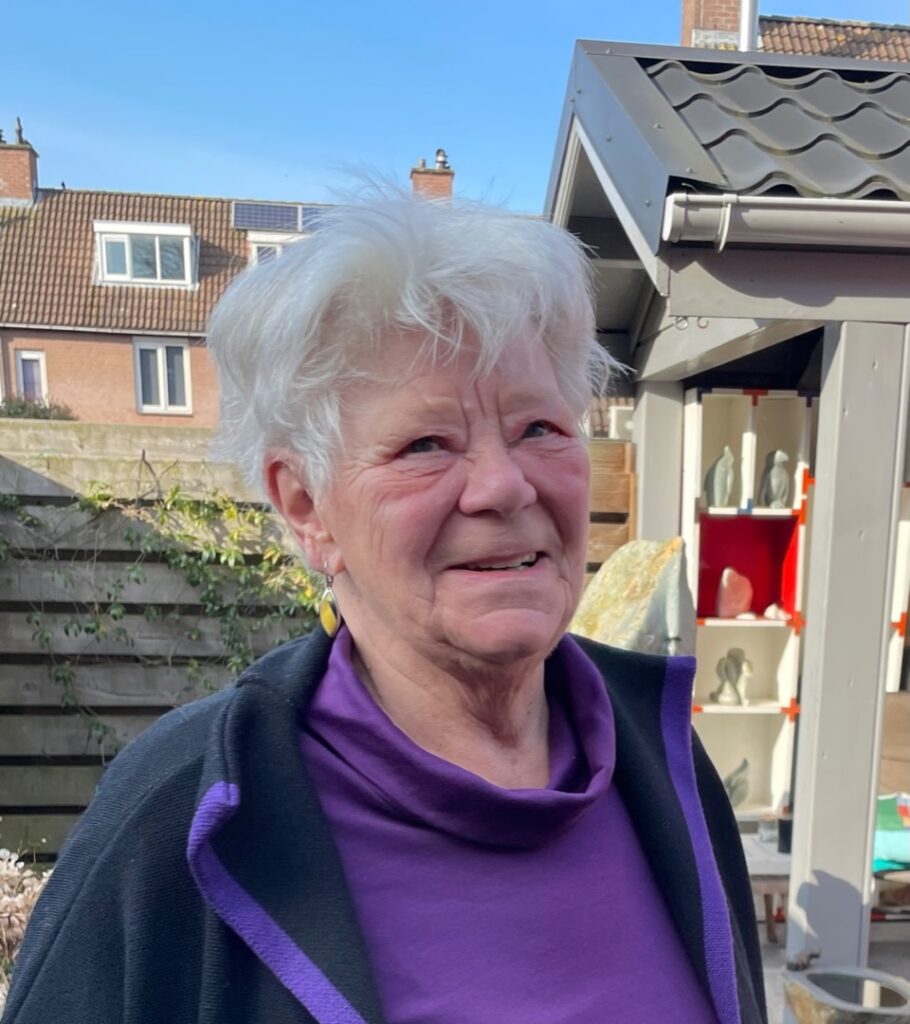 Wie ben je? Karin de Vries, ik ben 75 jaar en getrouwd met Rim.
Wat doe je? Ik ben vooral werkzaam geweest als maatschappelijk werkster in de jeugdhulpverlening. Ik heb vroeger de K&O, N20 en een post hbo-opleiding therapie voor kind en ouder gedaan. Ik heb in de jeugdhulpverlening, ouders en kinderen begeleid, ook een aantal kinderen die in tehuizen of pleeggezinnen verbleven. Ook heb ik een tijd lesgegeven aan aankomende pleegouders die een pleegkind wilde aannemen. Ik keek ook of het haalbaar was dat de ouders sowieso pleegouder konden worden. Ik heb verslaafde zwangere moeders intensief begeleid. 30% van die vrouwen werden perfecte moeders en vielen niet meer terug in hun verslaving, 30% hadden een lange therapie nodig en bij de rest lukte het niet meer. Deze kinderen gingen naar familie of pleeggezinnen. Daarnaast ben ik beeldhoudster, mijn hele tuin staat vol. Ik hou ook erg van lezen.
Waar woon je? Wij wonen al vanaf het begin aan het Aletta Jacobsplantsoen. Wij hebben veel groen voor de deur, maar daar wordt helaas misbruik van gemaakt. Het is een hangplek voor jongeren.
Wat vind je van Voorschoten? Op mijn 14e ben ik hier komen wonen in de Chopinlaan. Daar heb ik een leuke tijd gehad. Tijdens en na mijn studie ben ik weggegaan uit Voorschoten en nu woon ik er dus alweer 36 jaar. Ik ben teruggekomen om voor mijn moeder te zorgen zodat ik lekker dicht bij haar was. Voorschoten is heerlijk groen en je kunt er bijna alles kopen.
Wat zou je willen veranderen aan Voorschoten of heb je leuke ideeën voor Voorschoten? Ik ben blij met het fietsverbod in de Schoolstraat, dit is echt een stuk veiliger voor gehandicapten en ouderen. Het is jammer dat er veel speciaalzaken weg zijn gegaan uit het centrum sinds de komst van de Hema en de vele supermarkten. Juist die speciaalzaken maakte Voorschoten zo bijzonder. Het zou leuk zijn als er weer wat meer aparte winkels bijkomen.