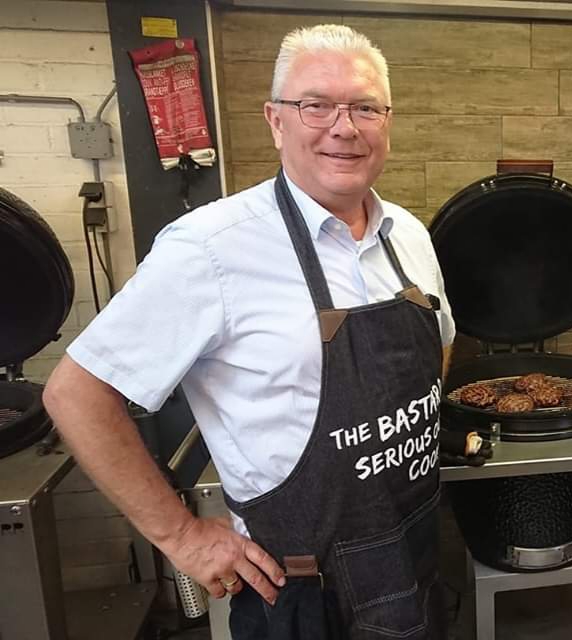 Wie ben je? John Zonneveld, ik ben 60 jaar en getrouwd met Els. Wij hebben twee kinderen; Michelle (31) en Stefan (28).
Wat doe je? Vroeger ben ik opgeleid tot slager en heb ik 17 jaar bij Top Slager Peters gewerkt aan de van Kempenstraat. Toen de slagerij stopte ben ik bij de AH gaan werken op de vleesafdeling. Later ben ik doorgegroeid tot manager. In totaal ben ik 34 jaar manager geweest, in totaal 14 winkels in Leiden (o.a. de Stevenshof), de bollenstreek, Leiderdorp en Floriande Hoofddorp. Sinds kort help ik mee met de opbouw van tentoonstellingen in het Museum. Mijn grootste hobby is koken. Ik ben een echte grillmeester en kook alles op hout in de Egg. Ook geef ik workshops hierin. In mijn tuin heb ik een buitenkeuken en ontvang ik graag familie en vrienden.
Waar woon je? Wij wonen al vanaf het begin op het Aletta Jacobsplantsoen, helemaal aan het einde heerlijk rustig met geen auto's voor de deur.
Wat vind je van Voorschoten? Voorschoten is mooi groen en ligt centraal voor alles: het strand, de parken, Vlietland en de steden. Ik ben geboren en getogen hier. Ik heb op de Willibrordusschool gezeten, nu is dit De Regenboogschool en ik ben ook trompettist bij Laurentius geweest.
Wat zou je willen veranderen aan Voorschoten of heb je leuke ideeën voor Voorschoten? We moeten niet willen vechten tegen de concurrentie van The Mall of the Netherlands. We zouden kunnen stimuleren om hier in Voorschoten de speciaalzaken te behouden en uit te breiden. Zo zou ik graag weer een groenteboer in het centrum terug willen zien. Ook moeten er niet te veel dezelfde winkels komen, de diversiteit is belangrijk en zal Voorschoten blijven onderscheiden van andere dorpen. En natuurlijk wat iedereen in deze column meldt: er moeten nu echt betaalbare woningen komen voor starters. Ik zou het geweldig vinden als mijn kinderen hier in Voorschoten zouden kunnen blijven wonen.