Voorschoten, 15 februari 2022
De zorgkosten nemen toe. Dat zie je in het hele land. Voorschoten en veel andere gemeenten kiezen ervoor om de kosten te beheersen door zorgverlening uit te stellen. Hierdoor ontstaan wachtlijsten, maar uitstel in de zorg leidt in de meeste gevallen tot meer kosten op een later moment.
Voorschoten Lokaal: "Een goede en toegankelijke zorgondersteuning is voor iedereen belangrijk".
Uitstel in de zorg leidt in de meeste gevallen voor meer kosten.
Voorschoten Lokaal pleit voor een Hulpmiddelen-depot. Een plek waar je terecht kunt voor aanschaf van een scootmobiel, rolstoel of rollator maar waar je deze ook kan laten repareren. Zo krijgen de hulpmiddelen een tweede kans binnen de gemeente. Dit is niet alleen duurzaam, maar de inwoners worden ook sneller geholpen. Door geen externe onderhoudscontracten aan te gaan maar het onderhoud in eigenbeheer te houden besparen we duizenden euro's. Graag zien wij in het Depot een vaste consulent die inwoners helpt met alle vragen rondom zorg. Of dat nou om een PGB gaat of zorg in natura. Vaak weten inwoners niet waar en wat voor zorg ze kunnen krijgen. Er zijn diverse wetten waar zorgvragers terecht kunnen en in veel gevallen wordt er eerst naar de WMO gekeken omdat deze het bekendste is. Z'n consulent kan inwoners helpen met de juiste match tussen de zorgvraag en de bijpassende wet of misschien een combinatie ervan. Martine Zoun: "Door zorgvragen laagdrempelig en toegankelijk te maken kunnen we inwoners sneller en effectief helpen."
Goede zorg moet voor iedereen toegankelijk zijn en niet alleen mensen die de bureaucratie op dit gebied durven te trotseren.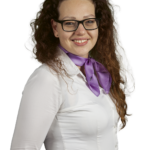 Martine Zoun
Reageren: stuur een mailtje aan vereniging@voorschotenlokaal.nl