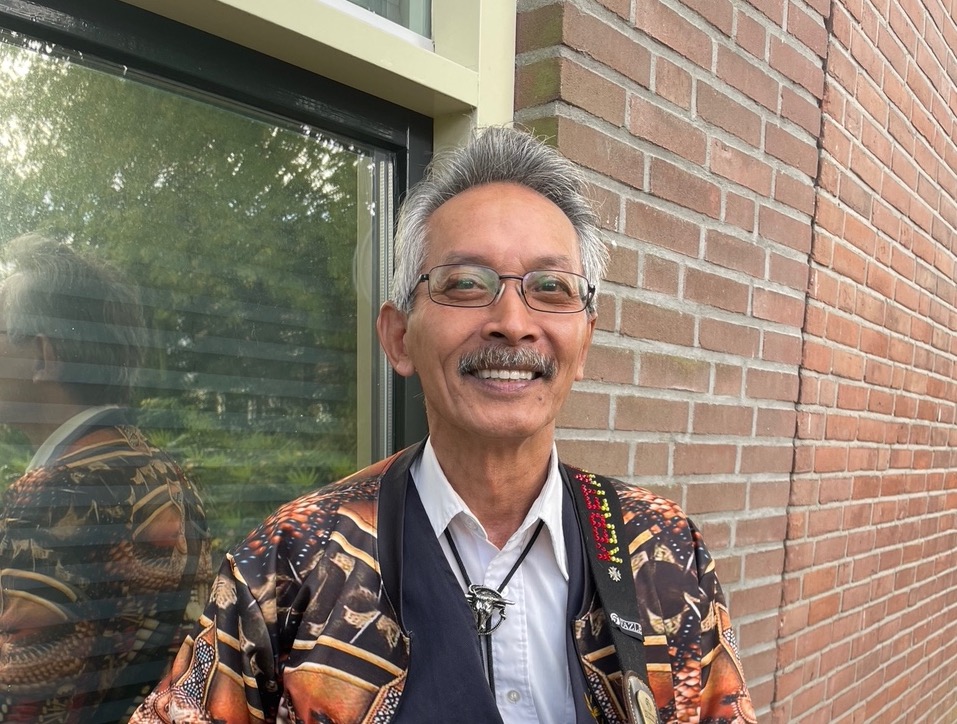 Wie ben je? Robert Sonneville, ik ben 67 jaar en ik ben getrouwd met Lida (68). Ik heb 5 kinderen uit mijn vorige relatie en 4 kleinkinderen.
Wat doe je? Ik ben nu met pensioen, ik heb 42 jaar bij de rijksoverheid gewerkt. Nu ik klaar ben met werken, heb ik het drukker dan ooit. Ik ben al 45 jaar amateur muzikant. Voordat Corona uitbrak organiseerde ik muziekevenementen op de Voorstraat samen met de horecaondernemers. Elke eerste zondag van de maand speel ik in duivenvereniging De Zwaluw. We kunnen vanaf nu weer optreden in verpleeghuizen, dat is zo dankbaar om te mogen doen. Ik wordt veel geboekt voor feesten uit de Indische gemeenschap. Ik zeg altijd: "elke Indo wordt met een gitaar geboren". Muziek loopt als een rode draad door heel mijn leven. Barrelzz is mijn stamkroeg en ik zit ook in de biljardcompetitie.
Waar woon je? Wij wonen sinds 1 jaar aan de kleinste laan van Nederland; de Laan van Langenhorst. We wonen hier erg naar onze zin.
Wat vind je van Voorschoten? Ik woon hier pas 7 jaar, ik kom uit Den Haag. Voorschoten is een leuk dorp, lekker rustig. Ik treed hier nu vaker op en ik merk dat de inwoners erg warm zijn.
Wat zou je willen veranderen aan Voorschoten of heb je leuke ideeën voor Voorschoten? Waar ik mij heel erg aan stoor is de communicatie ofwel de mis- niet communicaties met de gemeente. Omdat ik een lichamelijke beperking heb en iets wilde aanvragen bij de WMO heb ik die miscommunicatie persoonlijk ervaren. Die was namelijk erg klantonvriendelijk. Je krijgt na maanden een antwoord op je vragen of helemaal geen antwoord! Ik heb op dit moment geen energie meer om in de toekomst iets te vragen aan de gemeente ik voel mij erg murw geslagen. Dit zou echt een verbeterpunt moeten worden, zeker nu Voorschoten weer eigen ambtenaren in dienst heeft.