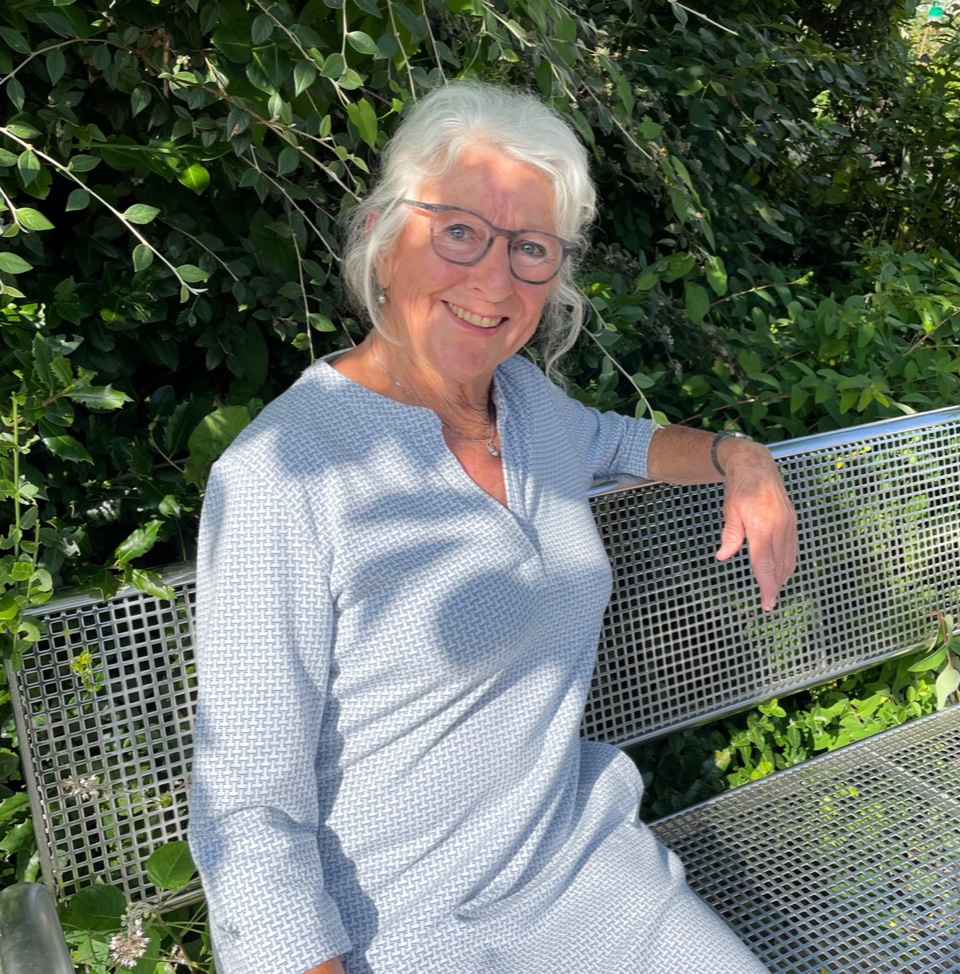 Wie ben je? Nelly Gooijer, ik ben 69 jaar. Ik heb twee dochters en drie kleinkinderen.
Wat doe je? Ik behoor bij één van de eerste ICT'ers in de jaren '70' en natuurlijk nog jaren daarna. Ik ben rond mijn 60e gestopt met werken. Nu ben ik vrijwillig Natuurgids en Zeegids waarbij ik wandelingen begeleid en veel vertel over de natuur. Verder wandel en fiets ik graag hier in de mooie omgeving die Voorschoten rijk is. Ik houd van reizen en ben erg geïnteresseerd in hedendaagse kunst en bezoek regelmatig exposities. Daarnaast vind ik het heerlijk om met de kleinkinderen bezig te zijn. Ik geniet van mijn vrijheid!
Waar woon je? Ik woon met veel plezier in een appartement in Adegeest. Ik kan hiervandaan wandelend door onze mooie parken naar het centrum. Er wordt hier vlakbij nu na Corona weer gesport. De levendigheid die dat met zich meebrengt had ik echt gemist.
Wat vind je van Voorschoten? Voorschoten is een fijn dorp om in te wonen. De vele terrasjes, het gezellige centrum, de Vliet en het Vlietland zo dicht in de buurt. We hebben een ruime keuze uit goede restaurants. Waar ik vooral van geniet is de vele parken en groene gebieden in en rond Voorschoten. Ik hoop dat de festiviteiten zoals de Paardenmarkt en het weekend van Voorschoten weer snel terug komen, want die maken het wonen hier extra leuk.
Wat zou je willen veranderen aan Voorschoten of heb je leuke ideeën voor Voorschoten? Nu er meer thuis wordt gewerkt maken de mensen meer ommetjes. We hebben hier mooi verzorgd openbaar groen. Dat is nu extra belangrijk geworden en wordt nu nog meer gewaardeerd door veel inwoners, oud en jong. Dat heeft tot gevolg dat de bankjes veelal bezet zijn. Zouden er meer bankjes geplaatst kunnen worden? Van mij hoeft dat niet langs de paden, ze mogen ook midden in de natuur neergezet worden of aan het water. Bijvoorbeeld rond de waterpartijen in Park Adegeest, het Burgemeester Berkhoutpark en het parkje in Noord Hofland. Ook langs de Velostrada naar het water toe gericht en langs de groenstrook bij de sportvelden.