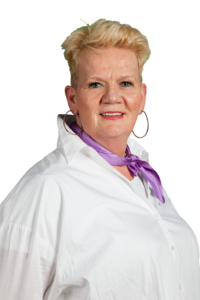 Ik ben Irene Hemmes (59). Ik ben geboren in Leiden, maar opgegroeid in een gezin met 9 kinderen in een gewoon gezinshuis in de Tulpstraat in Voorschoten.
Nu heb ik zelf vier kinderen en ben ik de trotse oma van 7 kleinkinderen, met zelfs een 8e op komst.
Ik hoor veel om mij heen dat inwoners niet betrokken worden in de besluiten die de gemeente neemt, terwijl het soms voor hun eigen deur gebeurt! Al langer heb ik daarom het idee dat ik iets in de politiek wil. Ik vind het belangerijk dat alle inwoners een stem hebbben en zich gehoord voelen. ongeacht hun opleidingsniveau of achtergrond. Van iedereen kan je juist wat leren en dat is waar ik mij hard voor ga maken!
Toen ik 47 werd, heb ik mijn eigen bedrijf opgezet. Dat is inmiddels uitgegroeid tot een gezond bedrijf dat zowel voor bedrijven, instellingen als particulieren de schoonmaak verzorgt. Eigenlijk doen we alles om er voor te zorgen dat onze klanten zich kunnen concentreren op belangrijkere dingen in het leven, zoals familie, vrienden, de carrière en hobby's.
Ik weet dat er in Voorschoten mensen zijn, met veel verstand van zaken. Of het nu gaat om de uitvoering of de financiën, de deskundigheid is er. En wanneer ik mensen spreek, hoor ik vaak dat zij vanuit hun professie niet begrijpen waarom dingen in de gemeente gaan, zoals ze gaan.
Ik zou zo graag zien dat deze kennis en ervaring van onze inwoners in ons zo mooie Voorschoten goed benut wordt en dat inwoners echt betrokken mogen worden om mee te denken en om ons dorp mede vorm te geven.