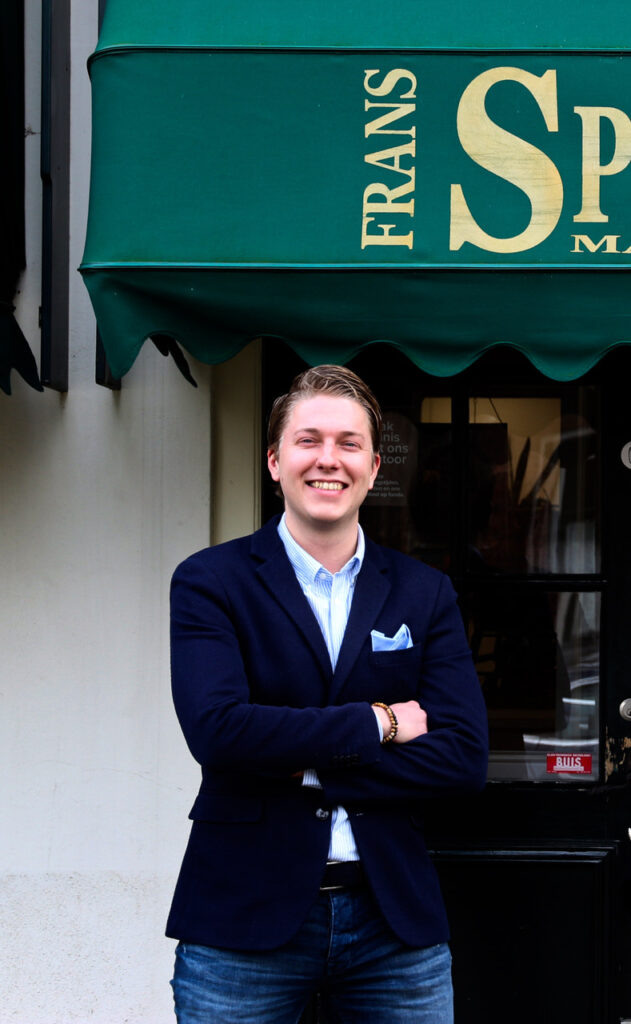 Wie ben je? Frans Spendel (jr), ik ben 27 jaar en woon samen met Kelly (24).
Wat doe je? Ik werk bij Frans Spendel Makelaardij aan de Voorstraat. Momenteel ben ik bezig binnen het bedrijf met de begeleiding van de verschillende diensten die wij aanbieden. Ook ben ik bezig met de opleiding voor Kandidaat Register Makelaar bij het NVM. Frans Spendel Makelaardij is een all-round kantoor voor alle diensten die er zijn in het onroerend goed. Zo helpen wij bij verkoop, aankoop, verhuur, aanhuur, taxaties en nog veel meer. In mijn vrije tijd zit ik graag op het water, lekker al varend vissen of dobberen door de grachten. Ik probeer 5 keer per week naar de sportschool: "de Spartaan" in Leiden te gaan. Daarnaast ga ik er graag op uit met mijn vriendin, vrienden of familie.
Waar woon je? Ik woon in Leiden aan het Levendaal, heerlijk om in de binnenstad te wonen maar ook fijn dat dit dichtbij Voorschoten is.
Wat vind je van Voorschoten? Ik ben hier geboren en getogen. Ik heb op de (RKBS) Regenboog school gezeten en ben daarna ben naar Het Vlietland College gegaan. Voorschoten is een mooi en gezellig dorp met de gezellig Voorstraat als middelpunt. Een mooie en vooral bruisende straat waar altijd wel wat te beleven valt. Voorschoten kent veel leuke woonwijken en ligt centraal voor alle omliggende steden.
Wat zou je willen veranderen aan Voorschoten of heb je leuke ideeën voor Voorschoten? Ik spreek nu denk ik, voor iedereen van mijn leeftijd die graag in Voorschoten een huis wil kopen om zich hier te kunnen vestigen. Ik hoop dat er betaalbaardere woningen komen voor starters. Ik weet uit ervaring dat dit heel moeilijk is. In de jaren "80" waren er premie A, B, C en D woningen. Zou toch mooi zijn voor onze generatie als er een vergelijkbaar concept gerealiseerd kan worden. Op dit moment woon ik met veel plezier in Leiden maar ik hoop ooit mijn kinderen op te zien groeien in Voorschoten.