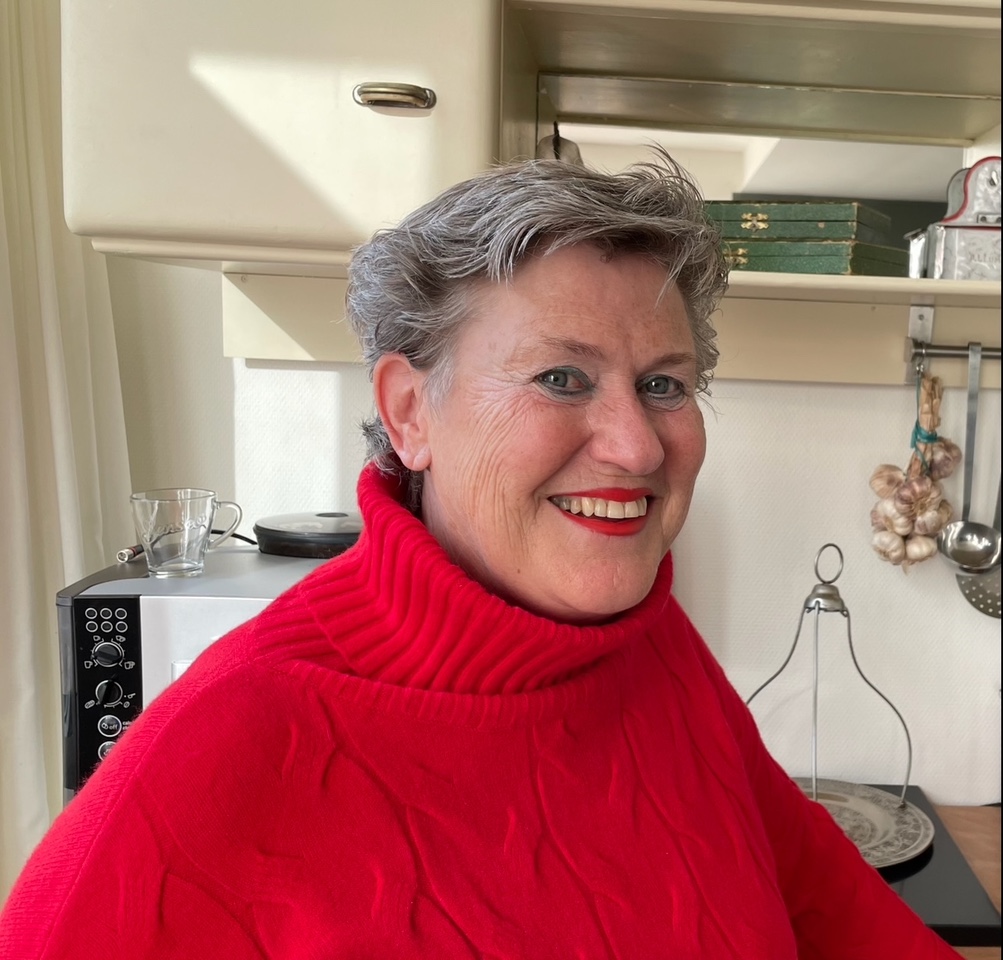 Wie ben je? Anita van Schie, ik ben 66 jaar en getrouwd met Paul (70).
Wat doe je? Ik heb 42 jaar met plezier in het onderwijs gewerkt. Altijd in de zorgsector leerling- en ouderbegeleiding. Zowel in het basis als in het voortgezet onderwijs.
Twintig jaar geleden kwam de opleiding voor systeemtherapeut op mijn pad.
Nu na mijn pensionering ben ik een eigen praktijk gestart voor familie opstellingen, loopbaanopstellingen en coaching, onderwijsadviseur. Ik heb me aangesloten bij Gezond, Wel & Zijn Voorschoten aanvullende zorg (zie website https://gezondwelenzijn.nl). Ik zou ook nu juist in deze tijd graag jonge leraren willen begeleiden, als scholen en opleidingen hiervoor openstaan.
In mijn vrije tijd lees, fiets en wandel ik graag. Daarnaast ben ik vrijwilligster bij de bibliotheek in Wassenaar. Ik kan ook heerlijk genieten van mijn keuken met uitzicht naar de tuin.
Waar woon je? Wij wonen pas 2 jaar hier, tegenover het station. Wij komen uit Wassenaar en vonden hier precies het huis wat bij ons paste.
Wat vind je van Voorschoten? Ik vind dat Voorschoten veel vriendelijker en gemoedelijker is dan Wassenaar. Je voelt hier een sociale cohesie. Mensen spreken elkaar aan of zeggen je goedendag en zijn geïnteresseerd in elkaar. Het Centrum is erg leuk en ik voel mij hier heel happy. Omdat wij hier nog maar net wonen en ook nog eens in de Coronatijd zullen wij nog heel veel van Voorschoten gaan ontdekken.
Wat zou je willen veranderen aan Voorschoten of heb je leuke ideeën voor Voorschoten? Als je Voorschoten binnenrijdt vanuit Wassenaar zie je veel graffiti onder de tunnel bij het station. Dat zou Voorschoten een mooi aanzicht geven. Uitnodigend om het centrum te gaan verkennen. Een beter visitekaartje.
Daarnaast hoop ik dat de markt weer snel in de Voorstraat terugkomt.